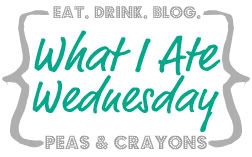 I don't have any pictures for you, but I haven't done a WIAW for a while, and thought my week-before-tax-day habits would be suitably unhealthy to show off on the internet (veggies? what?).
Breakfast (At 6:15 am! Good heavens, it is not ok to even be awake at this hour, much less already at work.): French bread with Laughing Cow spreadable cheese, Hi-Ball energy drink
Snack: Ritz Crackerfuls, Reese's mini peanut butter cups
Lunch: Baked tofu and roasted potatoes (cooked on Sunday night for lunches Monday - Wednesday... so... no idea what I'm having for lunch tomorrow)
Snack: Ritz Crackerfuls, an orange, more Reese's mini peanut butters cups
Dinner: Margherita pizza (yay, the firm brought in dinner Monday - Wednesday this week)
Snack: Will almost certainly have some more Crackerfuls and/or peanut butter cups before I head home.
Plus copious amounts of diet coke throughout the day.